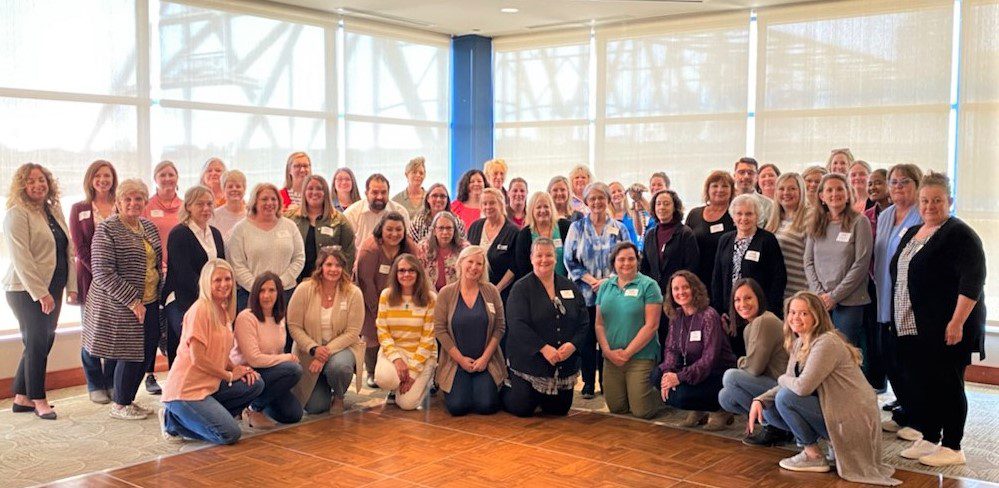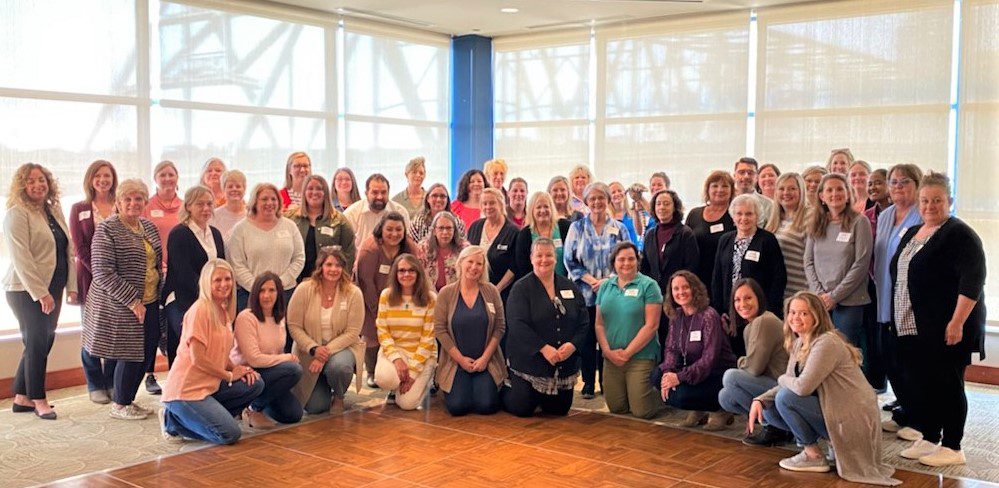 Energy Insurance Agency, central Kentucky's largest local insurance agency, is proud to announce they were voted a 2022 Best Agencies to Work for by the Insurance Journal.
This award is a direct reflection of our team and what they have been able to accomplish during these unprecedented and challenging times. We have the best people in the industry who work together daily, and we thank them for their efforts.
"Our team is what sets us apart and makes Energy Insurance a great place to work. It is difficult to lead a diverse team to achieve a common goal. When employees say it is a great place to work it gives me satisfaction that they appreciate the efforts of management to recognize and reward the great efforts of our staff." – Mark Kelder, president of Energy Insurance
"Energy Insurance Agency is the absolute best to work for. We have a great supportive leadership team that is very knowledgeable in the insurance industry. They care not only about their staff but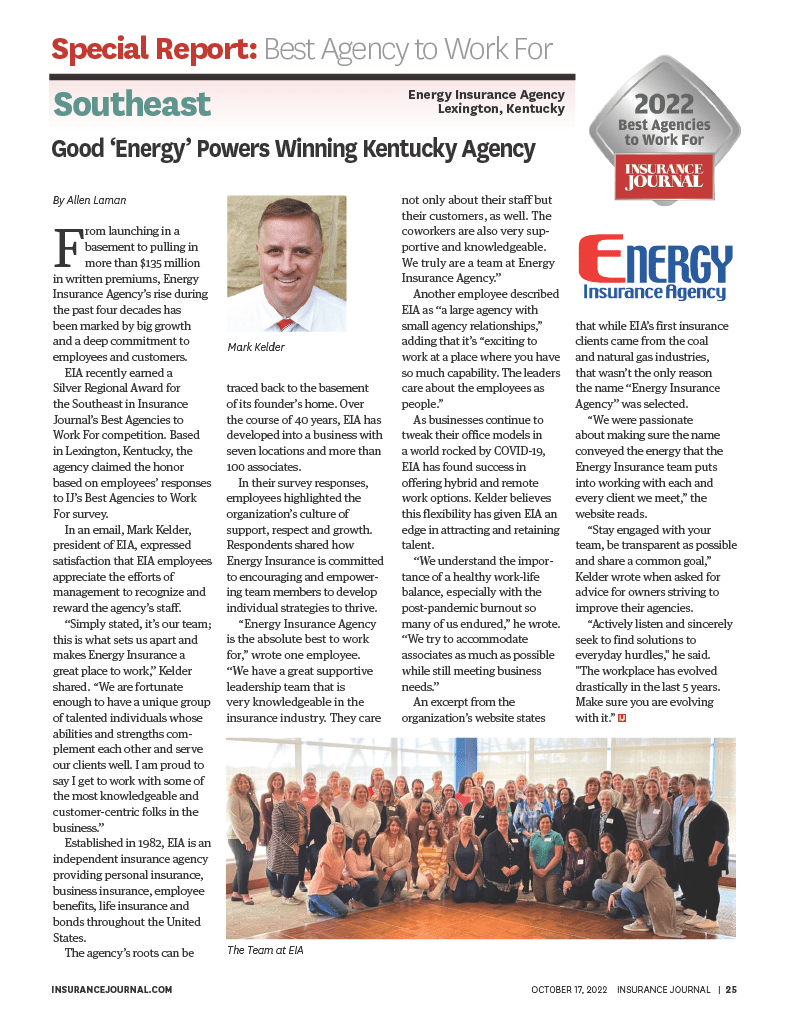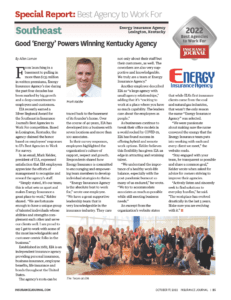 their customers, as well. The coworkers are also very supportive and knowledgeable. We truly are a team at Energy Insurance Agency."- Energy Insurance Team Member
We truly believe a culture that encourages employee engagement and retention is at the heart of every great company. When employees are happy and feel valued, they're more likely to stick around, be more productive and produce better results. That kind of positive energy can have a ripple effect throughout your company and your community — which is why it's so important to ensure employees have an excellent work-life balance. We believe our team's flexibility in work environments has given us the edge in attracting and retaining the best talent in the industry.
"A large agency with small agency relationships, it's exciting to work at a place where you have so much capability. The leaders care about the employees as people." – Energy Insurance Team Member
"We understand the importance of a healthy work-life balance, especially with the post-pandemic burnout so many of us endured. We try to accommodate associates as much as possible while still meeting business needs. Energy currently offers three working models; remote, hybrid, and traditional in office. Having this flexibility for our team has given us the edge in attracting and retaining talent." – Mark Kelder, president of Energy Insurance
We are fortunate enough to have a unique group of talented individuals whose abilities and strengths complement each other and serve our clients well. It's not lost on us that we have some of the most knowledgeable and customer-centric folks in the business.
To Our Team: Thank You! Thank you for showing up daily to help your clients and coworkers in the best possible way.
Click here to learn more about the careers Energy Insurance has to offer and & how you can become part of the Energy Team!
About Energy Insurance:
Energy Insurance Agency was originally established in 1982 to serve the insurance needs of underserved coal and natural gas companies. Today, we continue to serve those same needs but have expanded our services to include a full range of personal and commercial lines for individuals and businesses.
With more than four decades of experience, Energy Insurance Agency has grown to become Central Kentucky's largest local insurance agency. By leveraging our carrier relationships, we can provide our clients with exclusive service, knowledge, and pricing. We treat our customers like family and work hard to give them the best possible service available.
We understand the importance of having a policy that will protect you and your loved ones in the event of a loss or emergency. We are committed to providing you with quality coverage at competitive rates so that you can focus on what matters most – your family, your business, or whatever else makes life worth living!